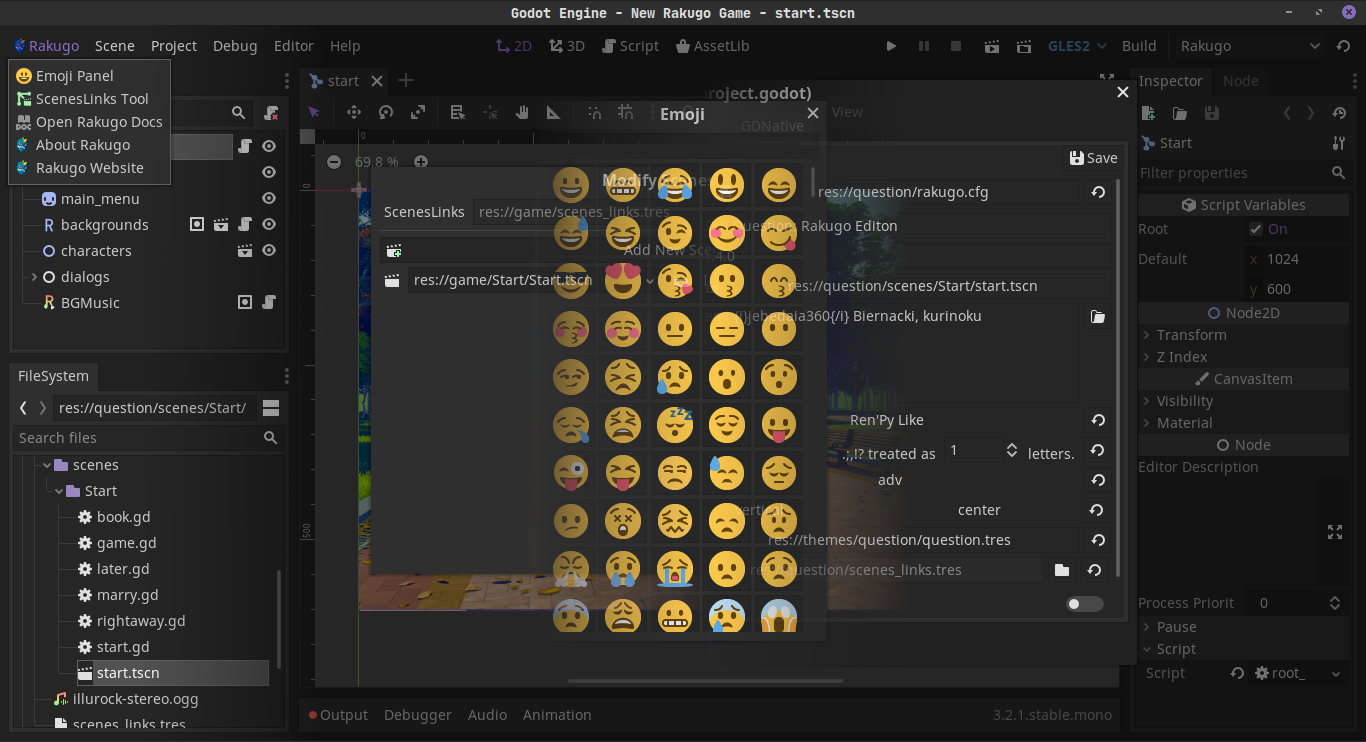 Version Numbering System Changed
Originally, version 2.1.00 was supposed to give the opportunity to create adventure games (point & click) in addition to visual novel games. But the changes that I made now are quite big, in particular the fact that the large GUI now uses its own viewport to display scene - it will facilitate the creation of games from genres other than visual novel with Rakugo. I also changed version numbering to 4 digits, which will be useful because I have an idea for a lot of small improvements graphical tools. The previous version 2.1.0 now becomes version 2.2.00.
Blurred paused game
Now on pause or when you in options game in background is blured
New Loading Screen
New Better/ more secure way of loading scene/saves now with loading screen
Rakugo Tools Menu
Menu with all new Rakugo Tools
Emoji Window
Emoji Panel -> Emoji window
Modify ScenesLinks Window
New easy way to edit ScenesLinks resources
Rakugo Project Settings
New easy way to edit Rakugo Project Settings
Changes:
New more flexible version of ScenesLinks resource format will make easy to expand it in future versions of Rakugo - but don't worry, Rakugo will automatically convert ScenesLinks resources to new format
background is now blurred during pause or when you in option menu
New Better/ more secure way of loading scene/saves now with loading screen
GUI now uses it own viewport - it will follow camera in your scene
Fixes in Save/Load system
Rakugo Projects Settings can use settings overwrite cfg file
Fixes for Godot 3.2 compatibility
Better RakugoMenu
Rakugo Tools menu
Emoji Panel -> Emoji window
New Modify ScenesLinks window
New Rakugo Project Setting tab in Project Setting Window
Correct all ScenesLinks miss spelling
Add link to open RakugoDocs
Files * .themes -> *.tres
Use simpler solution than git submodules - it will make easier to contribute
Add pause on punctuation like in Ace Attorney games as requested by Crystalwarrior on discord
Known Issues
Quests system is broken.
Continue button don't work so it is hide.